Ginni has practiced yoga since 1998, a year after she was diagnosed with fibromyalgia. Yoga brings relief of many symptoms presented with this diagnosis as well as many other health issues.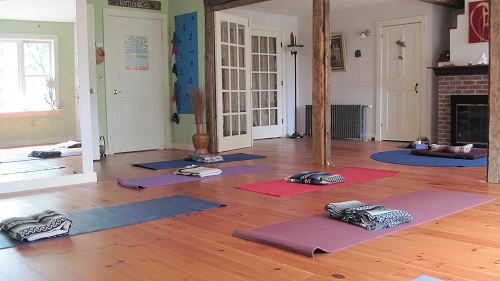 A move to the Western Lakes and Mountains Region of Maine in 2003 left her without opportunities for yoga classes. Ginni felt all people should enjoy the benefits of Yoga and consequently earned her certification to teach that same year. Although Ginni has had a long association with classes in Rangeley and Weld, the current Covid 19 pandemic has necessitated offering classes only in her studio in Madrid. Masks are worn at all times and social distancing limits how many students may attend. Walk-ins are not permitted at this time. However, with occasional cancellations, students on a waiting list are called to fill spaces. Call 207-639-2713 or email vrobie@live.com to ask about any openings.
Ginni brings warmth, wisdom and a wee bit of humor to her classes, making even the student with no previous yoga experience feel comfortable and at ease. She has gone beyond the criteria of her certification with continuing education in various types of yoga through seminars, week long courses, and her own research and exploration. Hatha yoga, based on the teachings of B. K. S. Iyengar, is primarily taught. However, other styles of yoga, including Ashtanga Primary, Yin, and Kundalini, are offered. And Ginni thoroughly enjoys a class with children!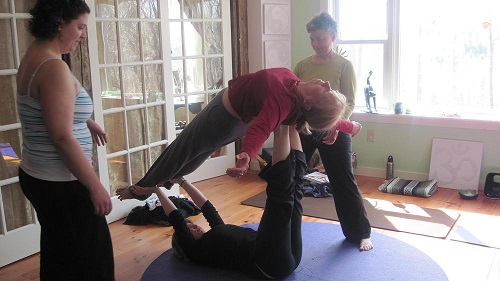 Ginni has hosted several retreat weekends. Led by a variety of instructors, participants come away renewed and looking forward to future retreats. Themes of some of the weekends have included Ayurveda, Kundalini, Ananda, and Acroyoga. Have an idea for a weekend workshop? Ginni would love to make it happen!
Click here for class schedule.